Discover our maternity jeans.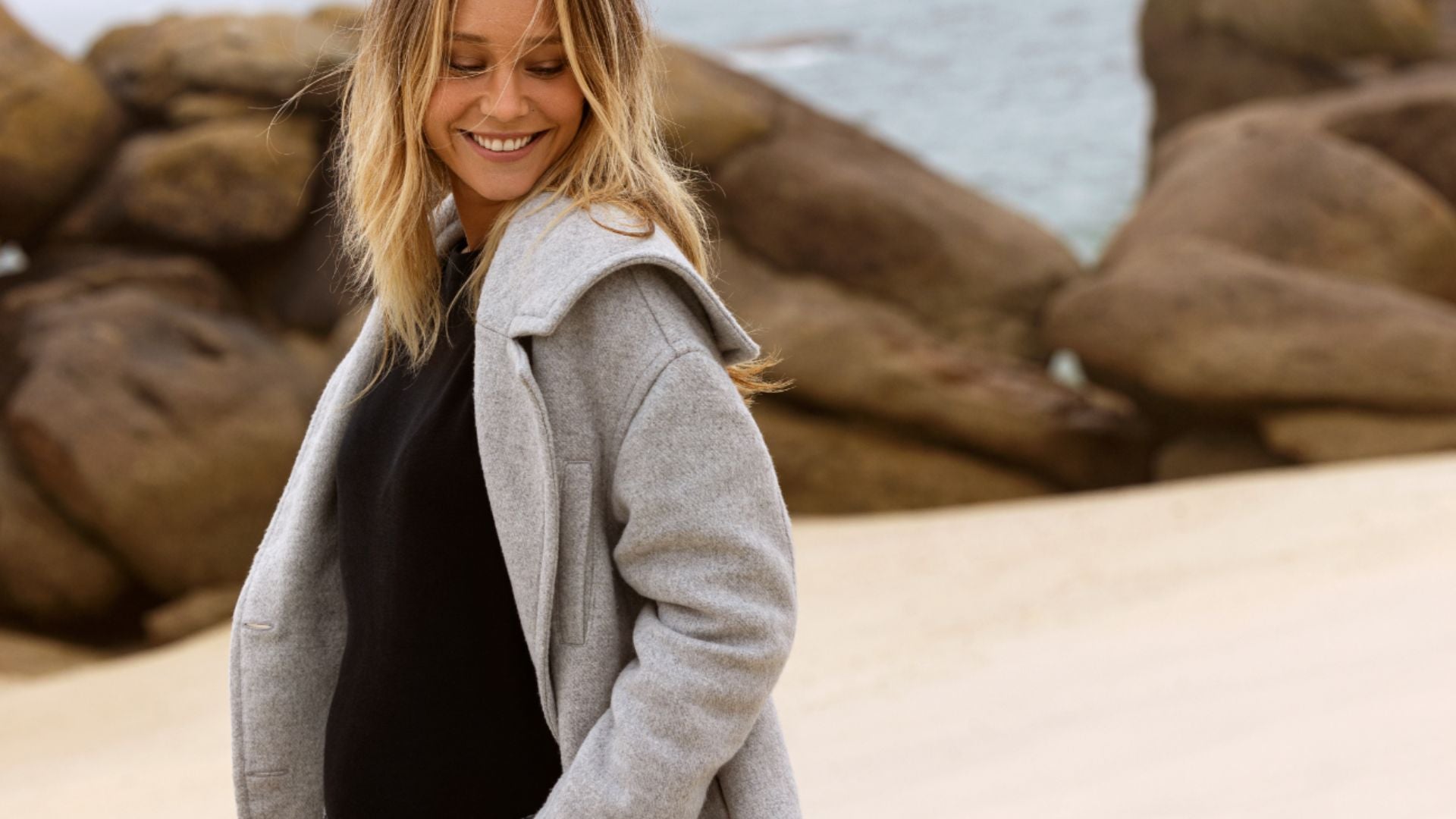 From the idea ...
Jeans are the trendy fashion piece every year! However, when you are pregnant, it quickly becomes difficult to wear your classic jeans and many future mothers turn to maternity jeans. However, very often, these are more a semblance of jogging with a denim look. With this in mind, we wanted to create a real jean for all pregnant women that could accompany you throughout your adventure that is pregnancy.
... to the realization
It took us more than three years of research and testing with different materials to be able to offer you THE perfect maternity jean. We wanted it to match our eco-friendly will: always more durable while having the lowest possible impact on the environment.
TENCEL
The Tencel (Lyocell) is an ecological, sustainable and biodegradable fiber, derived from plants like eucalyptus. Its manufacturing process is one of the most virtuous.


Recycled cotton
The recycled cotton is an eco-responsible material made from pre- or post-consumer waste. This helps preserve the planet's natural resources.


GOTS label cotton
The GOTS label guarantees that the textile fibers come from organic farming. It meets many environmental and social requirements.
Sustainable and responsible materials

As far as manufacturing is concerned, we have decided to trust a family workshop in Tunisia. Moreover, with our will to be the most respectful of the environment, we chose the most responsible materials possible as for example the organic cotton, the recycled cotton, the tencel or the elastane T400 (the most respectful elastane of the environment)..
A more respectful manufacturing process

As in any jeans creation, the washing stage consumes a lot of water, which cannot be reused once finished. However, always in a desire to respect the environment, the washing of our jeans has a water recycling process at 90% water recycling process, a process that we continue to improve to reach 100% recycled water. Many jeans also go through a sanding process Many jeans also go through the sanding stage, but for us, this is an ecological nonsense. That's why we prefer to use a laser technique to replace it. to replace it.

Thanks to all our efforts, our jeans have obtained an EIM score between 0 and 33, i.e. the best level of ecological impact. This score is calculated on four axes such as: water energy, chemicals and workers' health.
The innovative Chameleon system
by Cache Coeur


Suitable for the whole pregnancy and even after

You are probably asking yourself the question "what is the Chameleon?". This is an innovation from Cache Coeur, allowing your jeans to adapt to to adapt to the changes of your body during pregnancy.

Thanks to this system, maternity jeans that you only wear during your pregnancy are pregnancy, it's over! For the first time, you can have jeans that will accompany you throughout your pregnancy, and even long after. and even long after.

Your partner for your whole life as a mom

"But how does it really work?".

This innovation allows the integrated belt to evolve throughout your pregnancy throughout your pregnancy (up to 24cm of additional waistline) without deform. In addition, thanks to these snaps, you can accessorize your jeans with a dungaree top or a headband if you feel like it. with a headband if you feel the need.
When the know-how is hidden in the detail...
The buttons
Because Cache Cœur jeans are real jeans, you will be able to find this button, an essential element of jeans.
The symbol
We decided to brand our jeans with the œ, the symbol of Cache Cœur, in reference to our brand. Offering a unique stamp to our range of Jeans entirely dedicated to maternity and everyday life.
The jacron
The jacron of our maternity jeans is made of 100% cork Made in Italy. The cork was chosen to continue our eco-friendly approach, since it is a natural material whose exploitation produces little waste.
The cuts
Discover our jeans
A question ?
Discover our Q&A
0
Why are your maternity jeans different from others?
These are THE first REAL high-waisted jeans for pregnancy, without a headband and with a button.
1
My body will change during my pregnancy, how can your jeans adapt?
Our jeans adapt to the evolution of your body thanks to the Chameleon system. This innovation allows the integrated waistband to evolve throughout your pregnancy without deforming (up to 24 cm more waist).
2
I don't want to buy jeans just for my pregnancy.
Precisely, the Cache Coeur jeans with its Chameleon system have been designed to be worn after childbirth and long after. It will be the ideal partner for all your life as a mother.
3
I'm afraid to be tight in your jeans?
Thanks to the integrated chameleon system with its ultra-comfortable elastic, there is no risk that you will feel tight.
4
I like to change my style.
Our jeans will allow you to vary your looks by adding the seamless Belt or the dungaree top as needed.
5
Why is there no integrated headband?
At the beginning of pregnancy, it is not necessarily useful because our jeans are high-waisted, whereas it is for some women at the end of pregnancy. We wanted to create jeans that could be adapted to each woman's wishes and desires.
6
I'm afraid to buy jeans on the internet, how do I choose my size?
Thanks to our size guide, there is little room for error. On each item you can find the famous "what's my size?" and take your pelvis measurement with a tape measure.
7
I'm 5'7" and sometimes the jeans are too short.
Many of our jeans are available in tall (over 5'10") or regular to fit everyone.
8
How to maintain my jeans?
We advise you to wash it inside out at 30°C. It can be put in the dryer and ironed without any worries.