Now is the time!
GIFT IDEAS
Discover our selection dedicated to the
end-of-year festivities
discover
French maternity clothes, nursing swimsuit & pregnancy lingerie specialists.
Cache Coeur is a French brand dedicated to providing comfortable and stylish maternity and
nursing lingerie to expectant and nursing mothers. With a commitment to quality and innovation
, Cache Coeur offers a range of bras, briefs, and swimwear that adapt to a woman's changing body
throughout pregnancy and breastfeeding. Trustworthy and popular among mothers around the
world, Cache Coeur is a great choice for mothers in the US.

#everymomisawoman
Cache Coeur: Committed to Sustainability and Eco-Friendly Maternity and Nursing Lingerie
Cache Coeur believes in sustainability and environmental responsibility. Committed to using eco-friendly materials and production methods.
Cache Coeur offers a range of high-quality maternity and nursing lingerie that is both fashionable and environmentally conscious. Choose Cache Coeur for comfortable, stylish, and eco-friendly lingerie.
Confidence – Consciousness – Quality
Winter Collection
Maternity coats
Leave a review to receive a 5% discount code on your next purchase.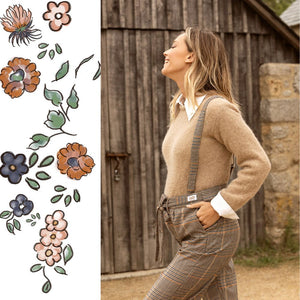 Cache coeur | LOVE IS ALL
The "Love is All" collection from Cache Coeur features a stylish retro look that is perfect for moms-to-be who want to channel vintage vibes. With comfortable fabrics and flattering designs, this collection offers a range of maternity and nursing lingerie that is both practical and fashionable.

Choose Cache Coeur's "Love is All" collection for a comfortable and chic addition to your maternity wardrobe.

The Love is All collection is eco-friendly. Made in Europe, it is certified OEKO-TEX STANDARD 100 and 100% organic cotton certified GOTS..
Start your maternity journey with Cache Cœur!
@Cachecoeur_maternity
Cache Coeur's Instagram account is the perfect destination for expecting and nursing moms who love fashion and style. Featuring a mix of lifestyle content and stunning product shots, this Instagram account provides inspiration and advice for moms who want to look and feel their best during this special time. Follow Cache Coeur on Instagram for a daily dose of maternity and nursing lingerie inspiration.